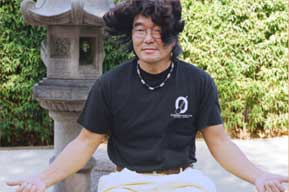 Shigemasa "Masa" Kawamura

Shigemasa "Masa" Kawamura is a landscape artist originally from Akita, Japan and is now living in Southern California.  Masa has offices in the Long Beach/Huntington Beach area and is the owner of the Akita Bonsai Nursery which first opened in Escondido, California, near San Diego in 1979.
Masa's artistic, one-of-a-kind gardens range from traditional Japanese to very modern Asian and expand into many other styles depending on the environment.
In recent years Masa has incorporated rock art into his landscaping designs. Well known for his originally designed waterscapes, each garden is created to enhance the unique demands of its location and owner's vision.
Masa Kawamura is also a photographer who has traveled the world capturing the beauty of nature as well as creating memorable souvenirs of personal celebrations, and other special events. All the images that appear on this site have been photographed by Masa.
Strength, Power and Honor



These signs are often used by Shigemasa Kawamura in some aspect of a finished landscape or any of his creations.  These signs are taken from the original signs of a famous Samurai king in Japanese history, Uesugi Kenshi, also known as Nagao, who was also one of Masa's great ancestors.
Uesugi is remembered for his noble, poetic, and philosophical way of living, fighting, and thinking.
Mr. Kawamura hopes that the power and beauty in this symbolism will offer beauty and protection to the environment that he has created.